Pass Cisco ENSDL 300-420 Exam in First Attempt Guaranteed!
Get 100% Latest Exam Questions, Accurate & Verified Answers!
30 Days Free Updates, Instant Download!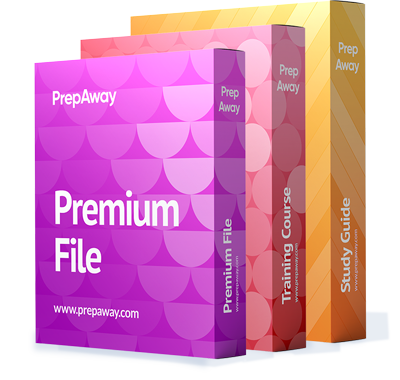 $7.00
Last Week Results!
80
Customers Passed Cisco 300-420 Exam
88%
Average Score In The Exam At Testing Centre
83%
Questions came word for word from this dump
PrepAway's Cisco ENSDL 300-420 Designing Cisco Enterprise Networks (ENSLD) Practice Test Questions & Exam Dumps have helped Over a Million Students Worldwide To Succeed in their IT Certification Goals. Pass The Cisco ENSDL 300-420 Designing Cisco Enterprise Networks (ENSLD) Exam With Provide Exam Dumps, Practice Test Questions & Answers from Prep Away. We offer Free ETE Files For Cisco ENSDL 300-420 Exam available completely free of cost as well as Premium File, Training Course & Study Guide. The Premium Products For Cisco ENSDL 300-420 Designing Cisco Enterprise Networks (ENSLD) Exam Cover the Latest Exam Questions & 100% Correct Answers. Most of our Candidates commonly achieve Scores in the region of 90%+ and see over 80% of our questions in their Cisco ENSDL 300-420 exam.

About 300-420 Exam
Designing Cisco Enterprise Networks (Cisco 300-420) is one of the 6 concentration exams associated with the CCNP Enterprise certification. Passing this exam will also earn you the Cisco Certified Specialist – Enterprise Design certificate which is a recognition of your advanced skills at this level.
Related Certifications
The Cisco CCNP Enterprise certification highlights an intimate knowledge of enterprise networking solutions. With networking and software fast becoming so interconnected, Cisco saw it wise to develop a new accreditation program that would cover both paths in detail while also focusing on what candidates need to know about emerging trends such as automation and programmability. And this is the basis of the CCNP Enterprise certificate which is just as good as it can get.
To complete your training, Cisco states that you must pass the Core exam (Cisco 350-401) together with a concentration test such as the aforementioned Cisco 300-420. The Cisco Certified Specialist – Enterprise Design certification, on the other hand, is only intended to distinguish you from other professionals by recognizing your commitment to obtaining the CCNP Enterprise certificate.
Cisco 300-420 Exam Details
The Cisco 300-420 exam, just like the other concentration assessments, costs $300. It should be completed within a time limit of 90 minutes. Students can attempt this test in the Japanese or English language from the comfort of their homes or physical testing locations.
Cisco 300-420 Exam Domains
The Cisco 300-420 exam is meant to verify the knowledge of enterprise design using 5 domains as highlighted below:
1. Advanced Addressing and Routing Solutions (25%)
This domain starts by emphasizing the creation of structured addressing plans for IPv6 and IPv4. Then, it highlights the tasks of creating secure, scalable, and stable routing designs for BGP, OSPF, IS-IS, and EIGRP. Finally, it addresses the principles of determining the strategies for migrating IPv6. This includes such concepts as native, overlay, and boundaries.
2. Advanced Enterprise Campus Networks (25%)
This section of the syllabus mostly focuses on designing campus networks for HA, designing infrastructures for campus Layer 2, and designing infrastructures for multicampus Layer 3. Also, it testifies that the learner understands the SD-Access Architecture as well as the fabric design considerations in SD-Access for wireless and wired access. Consequently, it would be a huge mistake to schedule this exam before mastering the details of STP scalability, load sharing, VRFs, redistribution, BFD, automation, and convergence, among the rest.
3. WAN for Enterprise Networks (20%)
Under this knowledge area, the key emphasis will be on comparing different options for WAN connectivity, designing site-to-site VPN, and ensuring HA for enterprise WAN. Also, it tests the knowledge of describing the design considerations for Cisco SD-WAN and the concepts of the Cisco SD-WAN Architecture.
4. Network Services (20%)
This module covers the selection of the most suitable QoS strategies to satisfy customer needs, designing end-to-end policies, and designing techniques for managing networks. What's more, it will testify that the examinee has mastered the concepts of multicast routing and steps for designing multicast services.
5. Automation (10%)
To conclude, the Cisco 300-420 test will confirm that the learner understands the steps for choosing the right YANG data model set depending on the existing requirements, differentiating between Openconfig, Cisco native and IETF Yang models, and differentiating between RESTCONF and NETCONF. Finally, it will measure the student's ability to describe the effect of model-centered telemetry on networks and compare the dial-out and dial-in approaches relating to model-centered telemetry.
Job Prospects after Passing the Cisco 300-420 Exam
Read on to find out the 3 best job roles you can get with the Cisco CCNP Enterprise certification:
Network Engineer

A network engineer designs, implements, monitors, and manages LANs and WANs to give users maximum uptime. These individuals design system configurations, documents and manage network installation, and maintain or upgrade systems depending on the requirements. Going by the current employment trends, the job scope of a network engineer covers the following duties:

Firewall configuration to improve network efficiency.
Conducting scheduled system upgrades.
Procurement of network equipment.
Installation and configuration of network equipment such as routers, switches, DNS, DHCP, and proxy servers.

According to PayScale.com, a typical network engineer makes an average salary of $75k per year.

Systems Engineer

Systems engineers take part in the planning and implementation of new systems, troubleshooting software issues, and improvement of the available systems by conducting scheduled upgrades. In some cases, the job scope of these individuals may cover detecting issues with WAN technologies, VPN configuration, internet connectivity, managing security, and staying on par with modern technologies and best practices. In conclusion, these are also the same group of IT professionals who install, maintain, test and configure operating systems and tools for managing systems depending on the size of the organization. PayScale states that with the recent surge in demand for systems engineers, a typical IT professional in this position is certain to make an average salary of $80k per year.

Network Security Engineer

Network security engineers are responsible for protecting their systems from security threats such as malware, hacking, and bugs. For that reason, they should demonstrate their knowledge of detecting existing security issues and suggesting the right strategy to counter the same and prevent imminent attacks. Anyone interested in this role should possess diverse skills that are centered on data security, covering data encryption and firewall installation. As a network security engineer, you will battle different types of cyber threats to ensure your systems are safe from spyware, viruses, trojans, phishing attacks, and other system-centered vulnerabilities. Also, you should be familiar with a ton of network and security components such as switches, routers, VPNs, and firewalls. According to the latest information from PayScale.com, a typical network security engineer makes an average income of $87k per year.
Certification Path
As was already mentioned, Cisco CCNP Enterprise is a professional-level certificate that confirms a mastery of enterprise networking solutions at a higher level. So, after getting this certificate by passing the Cisco 300-420 exam, you should be ready to switch your priorities to obtaining one of the Cisco CCIE Enterprise Wireless or CCIE Enterprise Architecture accreditations. However, this option is only feasible after you have passed the corresponding lab tests and satisfied the experience requirements.
Read More
Try Our Special 10% Discount Offer for Premium 300-420 ETE File