Pass Cisco CCNP Service Provider Certification Exam in First Attempt Guaranteed!
Get 100% Latest Exam Questions, Accurate & Verified Answers!
30 Days Free Updates, Instant Download!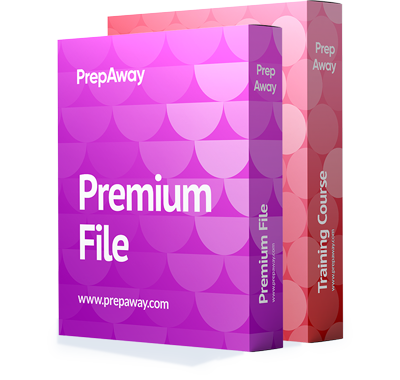 $36.66
Free CCNP Service Provider Exam Questions & CCNP Service Provider Dumps
PrepAway Offers Premium Cisco Certification Training Products which include, Premium ETE File, Training Course & Study Guide. These products are top of the line available at Cheap Prices to Save Money with Prep Away. Covering the Latest Pool of Cisco Exam Questions, our Practice Test Questions help candidates to advance in their careers and studies. Use Cisco Exam Dumps & Training Courses and Ace your next exam with ease. All our premium products feature Latest Questions, 100% Accurate Answers & Fast Updates to New Questions. Over A Million Customers in the last year, PrepAway is one of the fastest growing sites on the Internet.
350-501 Exam - Implementing and Operating Cisco Service Provider Network Core Technologies (SPCOR)
CCNP Service Provider Certification Facts
Cisco CCNP Service Provider is the industry standard certification that helps candidates to prove their skills in service provider solutions. Those individuals who are interested in pursuing their careers related to this field should consider obtaining this certificate. Once you earn it, you can share it on your profile to attract potential employers.
Who Is CCNP Service Provider Certification Intended for?
This accreditation is designed for candidates who have 3-5 years of experience in implementing service provider solutions. However, this is a recommendation, not a mandatory requirement. One more point to pay attention to is that applicants should have an understanding of all the topics covered in the chosen exams.
Certification Overview: Exams to Pass
The CCNP Service Provider certification measures the candidate's knowledge about service provider infrastructure and solutions. To acquire it, one is required to pass the core and one specialization test. The first one emphasizes the basic knowledge of the service provider architecture whereas the concentration assessment covers industry-specific topics. These are VPN services, advanced routing, and automation.
The core exam you have to take is 350-501 SPCOR, or Implementing and Operating Cisco Service Provider Network Core Technologies. You can choose one of the concentration exams from the following options to get the certification: 300-510 SPR Implementing Cisco Services Provider Advanced Routing Solutions, 300-535 SPAUTO Implementing Automation for Cisco Service Provider Solutions, and 300-515 SPVI Implementing Cisco Service Provider VPN Services.
Cisco 350-501 SPCOR Exam Details
This is a 120-minute test that is associated with the CCNP Service Provider certification, Cisco Certified Specialist – Service Provider Core certificate, and CCIE Service Provider. It measures your knowledge about implementing core service provider network technologies, including QoS, automation, networking, as well as network assurance. It is presented in English only and candidates need to pay $400 as a registration fee. Then, one should master the following domains to pass the test successfully:
Architecture
Segment routing and MPLS
Services
Networking
Automation and assurance 15%
Concentration Exams Overview
Each of the concentration exams for the CCNP Service Provider accreditation is 90-minute long and can be taken online or in-person in the test center. They come in English only and contain multiple-choice, single-choice, fill-in blank, and drag-and-drop questions. The candidates are required to pay $300 as an exam registration fee.
Cisco 300-535 SPAUTO: This test, Automating and Programming Cisco Service Provider Solutions, focuses on one's understanding of the topics such as orchestration and automation platforms, automation protocols and APIs, and programmability of networks and network devices.
Cisco 300-515 SPVI: During this exam, called Implementing Cisco Service Provider VPN Services, you will need to demonstrate profound knowledge in the areas like VPNs for IPv6, Layer 2, and Layer 3 along with the main concepts of VPN architecture.
Cisco 300-510 SPRI: Implementing Cisco Service Provider Advanced Solutions will check if have an in-detail knowledge of Unicast routing, routing policy and manipulation, MPLS and segment routing, and multicast routing.
Training Courses Recommended for CCNP Service Provider Certification
You can always look for the training courses to prepare for your certification exams. They are your ultimate guide as they provide you with hands-on experience and in-depth knowledge about the domains of the chosen exams. Some of the training programs that you can take to prepare for the CCNP Service Provider certification tests are the following:
Implementing and Operating Cisco Service Provider Network Core Technologies (SPCOR) V1.0

This learning program is best for candidates aiming to know how to configure, optimize, and troubleshoot Service Provider IP network infrastructures. In addition, it will also help candidates to understand the concepts of core architecture, networking, services, automation, and QoS.

Considering the above information, this course is your gateway to success in the Cisco 350-501 exam. It lasts for 5 days and is delivered in the instructor-led format, offering you hands-on labs along with a 3-day self-study period. The candidates will polish their skills in implementing service provider technologies in IT organizations. Generally, this course is usually taken by network engineers, designers, and managers who want to expand their knowledge and want to get the certification with fewer efforts.

Implementing Cisco Service Provider Advanced Routing Solutions (SPRI) V1.0

This is the most informative course that you will ever find for the preparation for the Cisco 300-510 exam. It allows applicants to learn more about the most common and important practices and theories that can help you integrate advanced routing technologies including multicast routing, policy language, routing protocols, multiprotocol label switching, and segment routing. This course will expand your skills in service provider core networks and will allow you to practice with the help of labs.

This program is also a 5-day instructor-led course that will make you eligible for gaining high-demand skills to operate advanced technologies related to service provider networks. Through hands-on application and practice, it will make you a competent professional in the service provider field. This course is designed for professionals who already have knowledge about implementing several service provider networks and technologies. The people who normally take this training are system engineers, network administrators, network engineers, and project managers. While going through this course, you will become familiar with each and every minor concept, and once completed it, you will find yourself fully prepared for the final test. It delivers the multicast topics to you and helps you understand how to implement the PIM-SM protocols. In addition, the candidate will also learn about implementing enhanced Protocol- Independent Multicast, to name just a few subject matters.
Conclusion
Be ready to ace two exams to get the prestigious Cisco CCNP Service Provider certification. This certificate will open up the door to many career opportunities and will allow the candidates to get a good job. All can be done if you prepare well for the exams, so consider enrolling in the training courses offered by Cisco to clear all the required concepts about the tests' domains and pass these assessments with flying colors. Don't waste your time on other tasks and start your preparation attentively for passing the exam and accomplishing the CCNP Service Provider certification.