Pass Cisco CCIE Collaboration Certification Exam in First Attempt Guaranteed!
Get 100% Latest Exam Questions, Accurate & Verified Answers!
30 Days Free Updates, Instant Download!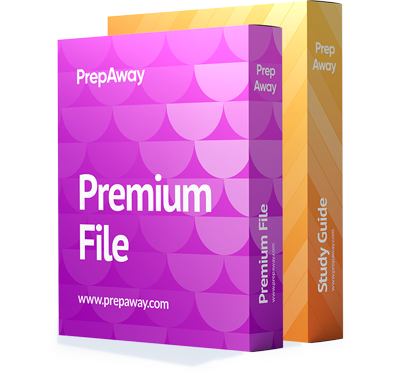 $36.66
Free CCIE Collaboration Exam Questions & CCIE Collaboration Dumps
PrepAway Offers Premium Cisco Certification Training Products which include, Premium ETE File, Training Course & Study Guide. These products are top of the line available at Cheap Prices to Save Money with Prep Away. Covering the Latest Pool of Cisco Exam Questions, our Practice Test Questions help candidates to advance in their careers and studies. Use Cisco Exam Dumps & Training Courses and Ace your next exam with ease. All our premium products feature Latest Questions, 100% Accurate Answers & Fast Updates to New Questions. Over A Million Customers in the last year, PrepAway is one of the fastest growing sites on the Internet.
350-801 Exam - Implementing Cisco Collaboration Core Technologies (CLCOR)
CCIE Collaboration Certification Facts
The Cisco CCIE Collaboration certification is an advanced confirmation of an individual's capabilities in complex solutions for collaboration. In other words, it is an expert-level certificate that validates one's knowledge and skills in executing key collaboration technologies. Cisco fashioned the designation to enable professionals to position themselves as technical leaders in the rapidly evolving field of technologies associated with collaboration.
Whom This Certification Is Intended for and How to Earn and Maintain It
First of all, this certification track is suitable for individuals who wish to gain top skills in network collaborations and officially confirm it. What's more, professionals with the CCNP Collaboration certificate are highly advised to take on this accreditation to advance their expertise in the collaboration field. Most of the time, the candidates are people who wish to venture into the network design and implementation sphere in positions such as video and voice network managers, unified communications architects, and collaboration architects.
Therefore, this is a highly prestigious Cisco certificate that is well respected and widely recognized and accepted. However, before a candidate is certified, they will have to take two evaluations relating to CCIE Collaboration. One is a written qualifying test with code CLCOR 350-801 and the other is a practical lab exam.
After passing these exams and being awarded the expert-level certificate, you can enjoy the benefits of the accreditation for three years. After this period, the certification expires, and the holder is obligated to recertify through any of the procedures that Cisco has outlined. This includes retaking evaluations or accomplishing CE activities. Also, combining both of the approaches is the other way.
Details of the Exams
The language used to deliver 350-801 is English and the registration for this exam is $400 for every candidate. Meanwhile, professionals who wish to take on the CCIE Collaboration certificate have to register early with Pearson VUE. This is the authorized test provider that administers the exam and facilitates enrollment.
There are no strict conditions that are specified to be met before sitting this Cisco evaluation. However, it is recommended that a candidate should know concepts concerning core technologies in network collaboration. Further, the experience of 5 to 7 years in developing, executing, operating, as well as optimizing technologies in addition to solutions for collaboration is needed. As already noted, this CCIE Collaboration qualification requires passing two tests, so let's look at them in more detail.
Written Qualifying Evaluation
The Cisco 350-801 CLCOR is called Implementing and Operating Cisco Collaboration Core Technologies. Thus, an individual's knowledge of the most basic and key technologies for collaboration is examined here. The amount of time allocated to finish the test is two hours, in which you have to complete various kinds of questions. At the same time, Cisco has neither specified the number of questions in the test nor the score needed to excel. However, a report of the score contains a breakdown of the marks according to sections of the evaluation, and a pass mark for the exam is provided after completion.
It's important to note that three certificates are associated with 350-801. One is this CCIE Collaboration. The other two are the CCNP Collaboration and Cisco Certified Specialist – Collaboration certifications. And because of the seriousness of this exam, to help individuals prepare for it, a list of topics has been revealed to act as a guideline in the preparation. Here is a list of the areas to master:
Infrastructure alongside design (20%)
Protocols, endpoints, and codecs (20%)
Cisco IOS XE gateway along with media resources (15%)
Call control (25%)
QoS (10%)
Collaboration apps (10%)
Practical Exam
The second test mandated for this certification is Cisco CCIE Collaboration (v3.0) practical one that checks for hands-on potentiality. It takes eight hours to complete. In more detail, every participant has to know how to plan, create, execute, run, and optimize complex solutions for enterprise collaboration. The protocols provided by Cisco are supposed to help in preparation for this exam. Moreover, below is a list of the seven topics that one should cover during the learning process:
APIs and protocols (10%)
Infrastructure in addition to quality of services (10%)
Call control alongside dial plan (20%)
Endpoints together with user management (10%)
Edge services (20%)
Media resources along with meetings (15%)
Collaborations apps and services (15%)
Career Opportunities
The technologies in the IT industry are so dynamic that it is very important to keep up to stay relevant and in-demand in your professional field. Especially now when with fast-paced changes, managers and recruiters value official certifications very much. That is because they are a trusted manner of validating your technical skills and capabilities to provide the required targeted solutions. Therefore, individuals who earn the described CCIE Collaboration certificate are at the top of the food chain in terms of career prospects as they have the ability to be technical leaders. So, they can qualify for job positions such as network managers, network architects, and network engineers.
Meanwhile, according to PayScale.com, a network architect earns $121k on average per year. The same source also indicates that network managers are paid an average salary of $89k annually.
These are highly gainful career and financial opportunities in the IT space. Especially considering that a CCIE certified expert commands a hefty annual average income of $129k. Thus, attaining the CCIE Collaboration designation will cement your value in the organization you work at, which means you become a valuable and irreplaceable employee. Even if the company management decides to downsize, you will not be let go because it takes time and money to train someone until they get to this level.
The Next Step after Earning This Certification
The CCIE Collaboration certificate is the topmost qualification on the track of collaboration. There is no other certification one can go for from here. However, the logical step is to consider earning certifications related to other technical areas such as security, data center, enterprise, service provider, and more from Cisco. The number of possible directions experts can take is only limited by their will and ability to develop. So, with Cisco, you can always access unlimited levels of expertise if you wish.