Pass Cisco CCNP Data Center Certification Exam in First Attempt Guaranteed!
Get 100% Latest Exam Questions, Accurate & Verified Answers!
30 Days Free Updates, Instant Download!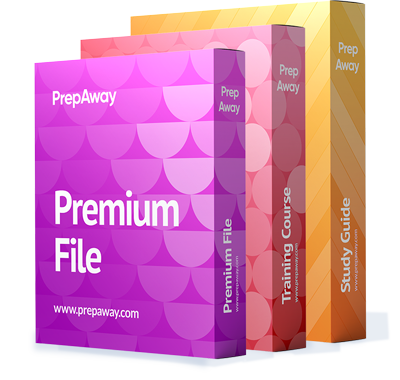 $7.00
Free CCNP Data Center Exam Questions & CCNP Data Center Dumps
PrepAway Offers Premium Cisco Certification Training Products which include, Premium ETE File, Training Course & Study Guide. These products are top of the line available at Cheap Prices to Save Money with Prep Away. Covering the Latest Pool of Cisco Exam Questions, our Practice Test Questions help candidates to advance in their careers and studies. Use Cisco Exam Dumps & Training Courses and Ace your next exam with ease. All our premium products feature Latest Questions, 100% Accurate Answers & Fast Updates to New Questions. Over A Million Customers in the last year, PrepAway is one of the fastest growing sites on the Internet.
350-601 Exam - Implementing and Operating Cisco Data Center Core Technologies (DCCOR)
CCNP Data Center Certification Facts
The Cisco CCNP Data Center is a professional designation that certifies a candidate's ability to manage data center solutions.
Target Audience
Naturally, most of the candidates who pursue this certificate are mid-level IT specialists willing to prove that they understand the ins and outs of managing data center solutions. This group includes data center engineers, network engineers, network administrations, and other IT specialists with similar qualifications. To complete this training, you will attempt a two-exam combination consisting of the 350-601 DCCOR and one of the following concentration tests: 300-610, 300-615, 300-620, 300-625, 300-630, and 300-635.
Details of Cisco 350-601 Core Test
The 350-601 exam runs for 120 minutes and can be taken online or from designated testing locations. It costs $400 and exists in English only. Primarily, this test was created to verify the ability to implement data center solutions. And it is also the same evaluation that qualifies trainees for the CCIE Data Center certificate.
350-601 Exam objectives
To help you prove your skills in working with data center solutions, the actual 350-601 test will focus on specific knowledge areas which are sometimes known as the test domains. Overall, there are a total of 5 such topics including the following:
Module 1: Network (25%)

This area outlines what the examinees should know regarding the application of switching protocols, routing protocols, overlay protocols, and ACI concepts. In particular, these include MP-BGP, OSPFv2 and OSPFv3, vPC, LACP, RSTP+, OTV, VMM, fabric setup, tenant, and access policies. Also, such a section focuses on the analysis of packet flow, cloud services, and the corresponding deployment models as well as the implementation of infrastructure monitoring and management of network configuration. Finally, it will evaluate the skills of explaining the concepts of network assurance with a major emphasis on streaming telemetry.

Module 2: Compute (25%)

Compute here is intended to address the tasks related to implementing the Cisco Unified Compute System Rack Servers, Cisco Unified Compute System Blade Chassis, management for compute configuration, and the monitoring of infrastructure. What's more, it assesses the skills related to explaining the benefits of the concepts of HyperFlex Infrastructure and describing software & firmware updates and the effect they have on B and C Series servers. Finally, this topic will measure your skills in SPAN alongside Intersight.

Module 3: Storage Network (20%)

Storage network in the Cisco 350-601 exam will address the technical tasks associated with Fibre Channel implementation, FCoE Unified Fabric execution, and infrastructure monitoring deployment. Similarly, it will expound on the skills of describing the concepts of NAS & NFS as well as software updates and the possible effects. In more detail, such a section will scrutinize the concepts of FCID, FCNS, VSAN, Zoning, port channels, NPV, and NPIV.

Module 4: Automation (15%)

Under such a category, the focus will be on two detailed objectives. These include the implementation of the tools found in scripting as well as automation and the evaluation of the technologies associated with orchestration and automation. With that in mind, candidates are encouraged to master a ton of technologies and products such as EEM, Scheduler, REST API, XML and JSON encodings, Ansible, Puppet, UCSD, PowerShell, POAP, Python, and DCNM before going ahead to register for the main test.

Module 5: Security (15%)

In conclusion, the 350-601 core evaluation will assess the application of network security, compute security, and storage security. This knowledge area requires a solid understanding of the relevant technologies and products including AAA, RBAC, port security, CoPP, fabric binding, ACI contracts, and the first-hop features for security such as ARP inspection & DHCP snooping among the rest.
Your Job Options
The Cisco CCNP Data Center certificate readies IT professionals to assume new roles within this field. Primarily, these roles involve the management or administration of data centers and include the following:
Senior Data Center Engineer

Senior data center engineers, as a rule, install, test, and maintain IT communication infrastructure for data center solutions. They oversee the engineering of data center infrastructures and are tasked with designing project documentation as well as providing valuable advice regarding the management of critical issues involving data centers. According to the latest industry trends, senior data centers are among the best paid IT specialists with ZipRecruiter acknowledging that these individuals earn an average of $114,833 per year in the USA. Not to mention the plenty of incentives and bonuses that come with working in modern IT departments.

Network Operations Engineer

Conversely, network operations engineers plan for the review of functional system firmware, application software, and iOS. What is more, they take huge pride in managing servers, networks, and the related equipment to ensure the effortless running of critical business processes. In many IT departments, these individuals are trusted with other supplementary duties such as providing client support, troubleshooting issues arising from network systems, and handling administrative tasks as part of the company's incident management team. According to PayScale.com, network operations engineers earn an average annual salary of $67,043.

Data Center Network Engineer

Data center network engineers manage the day-to-day activities of Network Operations Centers (NOC). In particular, they are tasked with interconnecting both physical and network-based devices with the relevant equipment in a bid to design efficient data center facilities. Even though the major emphasis will be on managing digital connections, data center network engineers still play a key role in maintaining or installing applications and network servers with the help of unified maps. Currently, they are guaranteed to make an average salary of $93,140 per year according to ZipRecruiter.
Certification Path
As mentioned early, the Cisco 350-601 is also the qualifying test for the CCIE Data Center certification. So, this should be the next step after attaining the CCNP Data Center certificate at the professional level. However, taking this test alone will not qualify you for the above-mentioned CCIE Data Center designation. Thus, you must also attempt and pass the CCIE Data Center v3.0 lab exam to complete your training. Upon accomplishing this achievement, you will distinguish yourself as an indisputable IT leader in managing data center technologies.