Pass Cisco SAUTO 300-735 Exam in First Attempt Guaranteed!
Get 100% Latest Exam Questions, Accurate & Verified Answers!
30 Days Free Updates, Instant Download!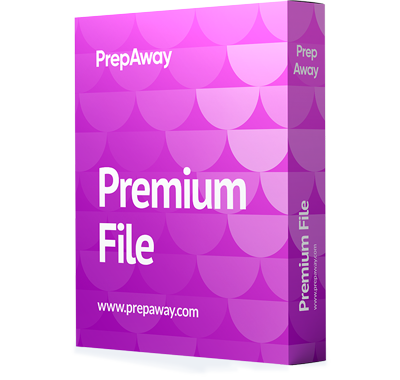 Last Week Results!
70
Customers Passed Cisco 300-735 Exam
88%
Average Score In The Exam At Testing Centre
83%
Questions came word for word from this dump
PrepAway's Cisco SAUTO 300-735 Automating Cisco Security Solutions (SAUTO) Practice Test Questions & Exam Dumps have helped Over a Million Students Worldwide To Succeed in their IT Certification Goals. Pass The Cisco SAUTO 300-735 Automating Cisco Security Solutions (SAUTO) Exam With Provide Exam Dumps, Practice Test Questions & Answers from Prep Away. We offer Free ETE Files For Cisco SAUTO 300-735 Exam available completely free of cost as well as Premium File, Training Course & Study Guide. The Premium Products For Cisco SAUTO 300-735 Automating Cisco Security Solutions (SAUTO) Exam Cover the Latest Exam Questions & 100% Correct Answers. Most of our Candidates commonly achieve Scores in the region of 90%+ and see over 80% of our questions in their Cisco SAUTO 300-735 exam.

About 300-735 Exam
Nailing success in the Cisco 300-735 SAUTO exam (Automating & Programming Cisco Security Solutions) is a sure way for an IT security professional to get a career boost. It is no less than hitting jackpot as this one test can make you eligible to lay your claim on three highly recognized certifications: CCNP Security, DevNet Professional, and DevNet Specialist certificates.
Certification Overview
If Cisco 300-735 is clubbed with 350-701 then CCNP Security is your award. It is a professional Cisco accreditation that validates broad knowledge and skills in the implementation of the IT security solutions for key Cisco networking products & equipment. It brings global recognition to its holders and turns them into doyens.
For candidates who choose 300-735 and 350-901 combination then the takeaway is the Cisco Certified DevNet Professional certification. This is the ideal path to be followed if your interest area is to write and develop Cisco technology integrations. Tried and tested expertise on use cases of APIs and the development of security applications can be verified effortlessly by the time the certification journey finishes.
If Cisco 300-735 is passed alone then you will be given a specialist-level certificate, Cisco Certified DevNet Specialist – Security Automation and Programmability. In all cases, victory in this exam will help you reap remarkable benefits.
Targeted Audience and Appointed Prerequisites
IT enthusiasts willing to become security engineers, security automation engineers, system engineers, and security architects are ideal for this exam. The vendor sets the aspirants free from the requirement of earning any kind of associate-level certification. However, it is essential that the candidate has achieved three to five years of industry exposure in the related exam domains to have a smoother accreditation journey.
In the case of CCNP Security, exposure to real-world expertise with the implementation of security solutions is a must. If Cisco Certified DevNet Professional certification is the aim, one must have gained real-world knowledge of software development, including Python programming.
Main Exam Details
Cisco 300-735 is a concentration exam, which means it specializes on one particular IT area. It is a timed test with a 90-minute limit and can be taken in English and Japanese languages. Pearson VUE is handling the responsibility of conducting the exam at multiple global locations, providing applicants with an opportunity to sit for it in an offline or online mode.
Candidates have to perform the registration formalities on the Pearson VUE website. During this process paying $300 tax is compulsory. Note that this fee will be paid in the form of a voucher, which will remain valid for a certain period and is non-refundable and non-transferable. The great news is full freedom is granted to avail of this voucher. Various slots are available and test-takers can choose one as per the will.
The score you gain in 300-735 exam remains valid for three years. After this period, you need to complete the recertification requirements to keep your benefits live.
Details of Exam Domains
The exam content is divided into four domains. Each one carries different weightage and assorted topics, and having an in-depth understanding of them is a wise move. Below, you'll find a detailed overview of 300-735 test syllabus.
The first exam domain, titled Network Foundation Programmability, is what one needs to pay attention to. It covers the characteristics of API styles like REST and RPC, and Python script interpretation. Also, some of the key version control operations with Git, challenges encountered while consuming the APIs synchronously and asynchronously, Python virtual environments benefits, and pros of using the networking tools like Puppet and Ansible are included in this exam domain.
For the second exam section, which emphasizes Network Security, the learners should be able to describe the event streaming abilities of Stealthwatch Enterprise, eStreamer API, Firepower, ISE, and pxGRID. As the exam domain proceeds, it explains topics like firewall objects managements, rules, and access policy implementation using the Firepower Management Center and Threat Defense APIs. Also, it discloses the Python script construction for pxGrid, configuration modifications, API construction with the help of Stealthwatch API, and rich report generations.
Advanced Threat & Endpoint Security is the third exam domain and its focus is on explaining the components and abilities of key APIs such as ThreatGRID API, AMP for endpoints APIs, and Umbrella Investigate APIs. It also explores the knowledge realms of Umbrella Investigate API request construction, threat disposition, fabricating the ThreatGRID APIs request for operations such as feeds, sample feeds and using the AMP for computer, requests, and policies.
The last exam domain teaches about Cloud, Email, and Web Security. As it proceeds, one has to prove an understanding of the concepts like Cisco Security Management Appliance APIs, Stealthwatch cloud APIs, and Umbrella reporting and enforcement APIs. Components, capabilities, and report generation-related expertise are well covered in this domain.
Is Cisco 300-735 a Good Choice?
This must be the first question popping in every aspirant's mind and without any doubt, the answer is a resounding "yes". It is because there are multiple opportunities you can get after the victory in this exam.
As a CCNP Security certified professional, one is likely to make $113k a year, says the ZipRecruiter website. You can also explore the opportunities as Cisco Systems Automation Engineer after completing 300-735 exam along with 350-901 exam. ZipRecruiter says that this is also a high-paying job role and allows one to make $101k a year. As all the corresponding certifications are globally recognized, candidates have the whole world to explore.
Other Certifications to Earn after Cisco 300-735 Exam
Success should never be limited and it is wise to move ahead after the Cisco 300-735 exam. The ideal choice, in this case, is CCIE Security. With this certification, one can have access to the best-of-breed expertise in the implementation, support, and troubleshooting of the whole suite of Cisco security technologies The best and high-end expertise in these topics can be earned effortlessly. The holders of this certificate will be known as the doyens of the Cisco security technologies and will be trusted in all situations. After that, there won't be any looking back.
Read More
Try Our Special 10% Discount Offer for Premium 300-735 ETE File