Pass Cisco DEVWBX 300-920 Exam in First Attempt Guaranteed!
Get 100% Latest Exam Questions, Accurate & Verified Answers!
30 Days Free Updates, Instant Download!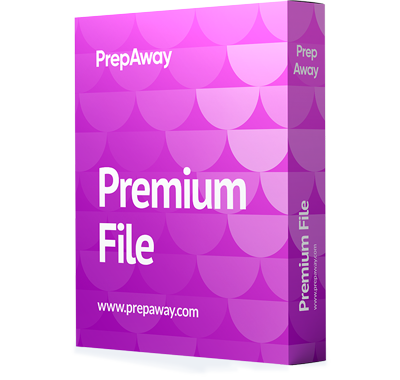 Last Week Results!
20
Customers Passed Cisco 300-920 Exam
88%
Average Score In The Exam At Testing Centre
83%
Questions came word for word from this dump
PrepAway's Cisco DEVWBX 300-920 Developing Applications for Cisco Webex and Webex Devices (DEVWBX) Practice Test Questions & Exam Dumps have helped Over a Million Students Worldwide To Succeed in their IT Certification Goals. Pass The Cisco DEVWBX 300-920 Developing Applications for Cisco Webex and Webex Devices (DEVWBX) Exam With Provide Exam Dumps, Practice Test Questions & Answers from Prep Away. We offer Free ETE Files For Cisco DEVWBX 300-920 Exam available completely free of cost as well as Premium File, Training Course & Study Guide. The Premium Products For Cisco DEVWBX 300-920 Developing Applications for Cisco Webex and Webex Devices (DEVWBX) Exam Cover the Latest Exam Questions & 100% Correct Answers. Most of our Candidates commonly achieve Scores in the region of 90%+ and see over 80% of our questions in their Cisco DEVWBX 300-920 exam.

About 300-920 Exam
The Cisco 300-920 DEVWBX exam is about the development of applications for Cisco Webex and Webex devices. In particular, the exam checks your knowledge of foundations for Webex API, messaging, Webex Meetings, and much more. If you succeed in reaching the needed marks, you get the Cisco Certified DevNet Specialist - Webex certification. And given that the 300-920 is one of the options for the concentration exam in the Cisco Certified DevNet Professional accreditation journey, you have every chance of becoming a certified professional.
More Details and Other Associated Exams
As you already know, the Cisco Certified DevNet Professional track includes two exams. One is named as core exam, and which is 350-901 DEVCOR that validates your knowledge of APIs, application deployment process, Cisco platforms, as well as automation and infrastructure.
The second requirement is to pass one concentration exam of your choice out of 8 offered, including the 300-920 test.
300-920 Exam Details
Every exam-taker of the 300-920 will have 1.5 hours to accomplish all the MCQ, drag-and-drop, and testlet questions. Remember, no official passing grade is offered for all Cisco exams. And once you finish your evaluation session, you will be getting a report with the score you have received. This includes the breakdown of the scores based on each section of the exam and the passing mark for the particular exam.
However, before that, the candidates should have registered for it in advance by paying $300 for the final exam. The enrolment process is with Cisco's exam delivery partner called Pearson VUE.
Objectives for 300-920
There are guidelines regarding topics that each candidate aspiring for satisfactory performance in the 300-920 test should follow. Thus, you must be prepared to meet the following topics and the respective domains:
Webex API Fundamentals (15%)

To start with the initial topic, exam 300-920 participants will need to illustrate varied abilities in terms of knowledge as well as skills. This includes describing the process for gaining access to Webex APIs targeting a particular scenario, including obtaining the roles that can be gotten from a Webex administrator. Also, this part covers the authentication techniques that work with Webex Teams, gadgets, and meetings. Troubleshooting error codes associated with REST API responses, which includes authentication and access, rate limiting, as well as interpreting these responses including filtering and pagination, will be tested on the final exam too. In addition, in this exam domain candidates will have to be aware of the process for constructing a JavaScript request alongside the description of the management lifecycle for the OAuth token.

Meetings (20%)

Tasks to deal with in the domain coming next include a description of the Webex Meeting APIs capacities, the JavaScript construction for scheduling a meeting, alongside HTTP requests to help in managing users. Also, the candidate has to show his or her ability to use the JavaScript for listing and downloading the meeting records.

Devices (20%)

Concerning this topic, exam-takers will be touching on varied fields. They include the abilities as well as use cases of xAPI above REST APIs, SSH, and WebSockets. Besides, candidates can meet the questions regarding ways for sending and receiving various data or script constructions with the use of 'jsxapi' for addressing a scenario. In addition, the applicants should know the construction of custom user interactions that include in-room controls.

Messaging (20%)

According to this knowledge area, candidates cover constructing requests for REST API using HTTP and JSON for particular scenarios like managing spaces, memberships, and teams. Others questions can check applicants' skills in constructing a JavaScript app for sending a message, retrieving the content associated with incoming messages, alongside using the cards. Also, knowledge in diagnosing the process for the Webhooks management that include event filters and resource will be proved by this test.

Embedding Webex (15%)

The next domain talks about a variety of questions regarding constructing an HTML page that embeds a Widget with the use of guest issuer or an Integration. After that, the test-taker should be knowledgeable in using the JavaScript for calling, screen sharing with browser SDK, as well as sending messages with the guest issuer and browser SDK. Also, in this part you should be able to provide the description of the mechanisms for receiving notifications during incoming calls for Android SDKs and IOS.

Compliance and Administration (10%)

Questions of the last knowledge area first concern the JavaScript request construction for administering a Webex-based organization including licenses, users, and devices. Every candidate also has to demonstrate a solid knowledge of constructing JavaScript for collecting compliance data alongside identifying the requirements, permissions, and steps needed for taking compliance actions on a space or message. The last bit regards using JavaScript for sending requests to numerous gadgets for a specific scenario.
Career Opportunities
Given the fact that Cisco is a well-recognized accreditation provider, any certificate it offers will open up many career and financial prospects for you. In more detail, once you are successfully through with the Cisco 300-920 exam, you are validly qualified to provide optimized solutions and to write applications targeting new networks. And according to ZipRecruiter.com, professionals in positions related to Cisco Webex technologies earn an average of $96K.
Meanwhile, targeted positions for jobs after being Cisco accredited include software developers, software engineers, network developers, and network engineers. And getting back to the numbers, for example, software engineers are likely to earn around $109k as suggested by the same source. As you can understand, this is approximate data that depends only on your experience, skills, and determination.
Career Path: Best Next Certification
Fortunately, Cisco offers tremendous certification opportunities for interested candidates. So, if you want to develop further in the DevNet field, you can look at the variety of highly specialized concentration exams that are included in the Cisco Certified DevNet Professional track. This way you can focus on:
Automating and Programming Cisco Enterprise Solutions;
Automating and Programming Cisco Data Center Solutions;
Developing Solutions Using Cisco IoT and Edge Platforms, and so on.
Any of them can be best in building professional experience that will give you even more muscle in the career field. As well, with more expertise in Cisco solutions, you will access better opportunities, including attractive salary package.
Read More
Try Our Special 10% Discount Offer for Premium 300-920 ETE File