Pass Cisco DCSAN 300-625 Exam in First Attempt Guaranteed!
Get 100% Latest Exam Questions, Accurate & Verified Answers!
30 Days Free Updates, Instant Download!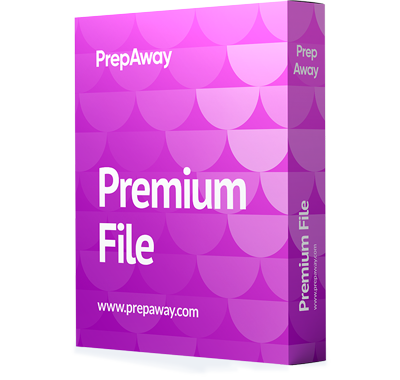 Last Week Results!
10
Customers Passed Cisco 300-625 Exam
88%
Average Score In The Exam At Testing Centre
83%
Questions came word for word from this dump
PrepAway's Cisco DCSAN 300-625 Configuring Cisco MDS 9000 Series Switches (DCSAN) Practice Test Questions & Exam Dumps have helped Over a Million Students Worldwide To Succeed in their IT Certification Goals. Pass The Cisco DCSAN 300-625 Configuring Cisco MDS 9000 Series Switches (DCSAN) Exam With Provide Exam Dumps, Practice Test Questions & Answers from Prep Away. We offer Free ETE Files For Cisco DCSAN 300-625 Exam available completely free of cost as well as Premium File, Training Course & Study Guide. The Premium Products For Cisco DCSAN 300-625 Configuring Cisco MDS 9000 Series Switches (DCSAN) Exam Cover the Latest Exam Questions & 100% Correct Answers. Most of our Candidates commonly achieve Scores in the region of 90%+ and see over 80% of our questions in their Cisco DCSAN 300-625 exam.
About 300-625 Exam
The Cisco 300-625 is part of the 6 concentration exams related to the CCNP Data Center certificate. Passing this test will also earn you the Cisco Certified Specialist - Data Center SAN Implementation designation. Generally speaking, the Implementing Cisco Storage Area Networking exam targets IT specialists who understand the MDS 9000 series switches of Cisco. These include implementation, deployment, management as well as monitoring, and troubleshooting.
About CCNP Data Center Certificate
The CCNP Data Center certification is specifically meant to assess any individual willing to confirm his/her mastery of data center networking solutions. To complete your training, you should take and pass the core exam, the Cisco 350-601 by code together with one concentration test from the following list: 300-610, 300-615, 300-620, 300-625, 300-630, and 300-635.
300-625 Exam Facts
Like most of the tests in this category, the Cisco 300-625 evaluation will cost you at least $300 depending on your location. In addition, it exists in its English version, and candidates will have a total of 90 minutes to attempt all the questions.
Breaking down Cisco 300-625 Domains
In summary, the 300-625 exam is tailored to suit the role of IT professionals who manage modern data centers. This means that all domains tested will be focused on similar skills, and a lot more. Overall, these are 6 in total and are discussed in the next paragraphs:
Topic 1: Deployment (15%)

Deployment as part of the actual Cisco 300-625 exam will address the knowledge of describing the installation as well as initial setup and defining secure boot. On that note, students should demonstrate their familiarity with POAP, DCNM, and NX-OS.

Topic 2: Putting into Practice (35%)

Implementation is the largest knowledge area that will start by addressing the implementation of port channels for the Fibre Channel, the protocol services for the Fibre Channel, and FCoE. Next, this topic will test the student's knowledge of implementing VSANs, executing NPIV and NPV, and deploying zoning as well as device aliases. Finally, such an area will highlight what the applicants need to know when configuring inter-VSAN routing and implementing extensions for VSAN.

Topic 3: Management and Monitoring (25%)

The objective of management and monitoring is focused on the subtopics of configuring DCNM, configuring RBAC, describing the slow-drain analysis, and configuring fabric security for the Fibre Channel. Lastly, it also addresses the implementation of SAN telemetry streaming.

Topic 4: Troubleshooting of MDS (25%)

In conclusion, the main 300-625 exam will cover what learners need to know to successfully troubleshoot MDS. This includes troubleshooting duplicate domain ID and domain in the Fibre Channel, solving issues with zone merge failure alongside zoning, and troubleshooting both upgrade and boot glitches.
Your Job Prospects
By acing the 300-625 exam, you will qualify for a wide variety of job roles that are centered on data center networking solutions. These include network engineering, network administration, systems engineering, systems administration, and network operations engineering. Keep reading to find out the factual details of the 3 best roles you can easily assume with the CCNP Data Center certificate:
Network Engineer

In general, network engineers have diverse roles that involve setting up and maintaining operational computer networks, providing technical support to clients & IT staff, and performing a wide range of maintenance as well as installation tasks on switches, cables, and routers. The job description of these professionals is incomplete without mentioning network configuration, firewall installation, and troubleshooting basic problems in computer systems. And as you progress in this role, you will likely become a network architect tasked with designing high-level network systems that epitomize security, functionality, and efficiency, where the primary objective will be to streamline business processes while working closely with the existing IT department. Also, you will likely get the right compensation for your dedication to helping your organization optimize its systems. According to PayScale, this is at least $75,168 per year.

Network Administrator

A network administrator, from the name, will be expected to maintain computer networks and resolve issues arising from these solutions. The typical job roles of these individuals cover the installation and configuration of computer networks, the identification and solving of issues arising from computer hardware and software systems, and the assembly of new products and solutions depending on the company's vision. Also, these individuals may provide technical support as far as network administration goes, budget for new equipment, maintain the existing hardware and software equipment, and monitor the operational systems to recognize possible improvements or upgrades. As a result, according to PayScale, a typical network administrator goes home with a handsome paycheck, amounting to an average of $60,414 per annum.

Systems Administrator

To conclude, systems administrators participate in the installation, upgrading, and monitoring of software and hardware. Also, they may perform data backup or recovery depending on the priorities of the organization. Usually, systems administrators work tirelessly to maintain the vital components of a computer system such as security tools, operating systems, emails, web servers, PCs, LANs, WANs, and business applications. Because they will be tasked with maintaining crucial aspects of an organization's computing system, systems administrators should endeavor to build an intimate knowledge of emerging trends. Finally, according to PayScale.com, the average salary for a systems administrator in the current employment market is $62,981 annually.
Certification Path
Cisco certifications follow a clear path, starting with the entry-level certificates to associate, professional, and expert. Considering the CCNP Data Center is a professional-level designation, you should focus on rounding off the professional Cisco training by going after its CCIE Data Center certificate, which is a recognition of your ability to manage data center networking technologies at the most advanced level. Usually, students who pursue this certificate must pass two exams namely, a core test coded 350-601 that addresses the fundamental data center networking technologies and a lab exam, the CCIE Data Center v3.0, that is focused on assessing the knowledge of data center networks using a practical, hands-on approach.
Read More
Try Our Special 10% Discount Offer for Premium 300-625 ETE File