Pass Microsoft MTA: Software Development Fundamentals Certification Exam in First Attempt Guaranteed!
Get 100% Latest Exam Questions, Accurate & Verified Answers!
30 Days Free Updates, Instant Download!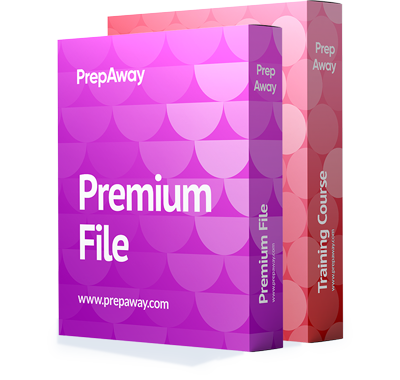 $6.50
Free MTA: Software Development Fundamentals Exam Questions & MTA: Software Development Fundamentals Dumps
PrepAway Offers Premium Microsoft Certification Training Products which include, Premium ETE File, Training Course & Study Guide. These products are top of the line available at Cheap Prices to Save Money with Prep Away. Covering the Latest Pool of Microsoft Exam Questions, our Practice Test Questions help candidates to advance in their careers and studies. Use Microsoft Exam Dumps & Training Courses and Ace your next exam with ease. All our premium products feature Latest Questions, 100% Accurate Answers & Fast Updates to New Questions. Over A Million Customers in the last year, PrepAway is one of the fastest growing sites on the Internet.
98-361 Exam - Software Development Fundamentals
MTA: Software Development Fundamentals Certification Facts
Earning the Microsoft MTA: Software Development Fundamentals certification is the best way to build a solid foundation in the development of applications and software. It validates that an individual has knowledge and skills necessary for writing code using object-oriented programming languages like Microsoft Visual Basic .NET and C#. To obtain it, an aspirant has to prepare for and excel in one exam.
Target Audience
The MTA: Software Development Fundamentals certificate is intended for participants who are hopeful to kick off their careers in the field of computer programming. Professionals with many years of experience can also attain it just to expand their skills, as Microsoft keeps pace with technological development, thus gaining with certification is useful for any candidate. Although it is suitable for the very beginners, it still requires familiarity with the concepts as well as technologies used in software development. But, not having a solid grasp of these doesn't stop you from trying to attain it.
This entry-level certificate is earned through studying for and passing the 98-361 exam. Its blueprint recognizes whether you possess the needed core skills in software development or not, and checks your understanding of the technologies covered.
Exam Details
Exam 98-361 can be quite daunting without the most germane training with relevant study resources. This is true even though the evaluation is considered to be entry-level and only geared towards novices within the larger software industry. Be ready to answer questions provided in different formats that include active area, MCQs, case studies, short answer, mark review, and others. You will have 45 minutes to attempt the questions ranging from 40 to 60 in number. While taking this exam, you will be tested on several topics. They include comprehending the following:
Core programming (15-20%): error handling, computer decision structures, techniques for handling repetitions, data types, storage.
Object-oriented programming (20-25%): the concepts of encapsulation, polymorphism, inheritance, the basics of classes.
General development targeting software (15-20%): data structures and algorithms, app specifications interpretation, the management of app life cycle.
Web applications (15-20%): web hosting and web services, Microsoft ASP.NET web app development, and web page development.
Desktop applications (15-20%): Windows Services and apps, console-based apps.
Databases (15-20%): connection methods, query methods, relational database management systems.
Both supervised online and on-premises tests are accessible, and regardless of the delivery format, the registration fee is about $127 (the sum may vary depending on the country where the exam is administered).
Non-students can schedule to take the test with Pearson VUE whereas instructors along with students can schedule it with Certiport. The certificate's associated evaluation accommodates participants from diverse language backgrounds. English, Russian, German, Spanish, Japanese, Italian, as well as both Traditional and Simplified Chinese are available. Other languages are Korean, Brazilian Portuguese, in addition to Spanish (Mexico).
Note that 98-361 exam is scheduled to be retired as from June 30th of 2022. However, registration as well as purchase of vouchers for the same is still available up to the 30th of June, 2021. The reason for this course of action is that technology has kept on evolving and there are newer skills and roles that need to be incorporated and best suit the work environment having a higher demand among employers. This is a bid by Microsoft to produce professionals who can work in the roles as well as technologies that have been developed in the recent past. However, the mentioned MTA certification will still be active and can be presented in your job hunting endeavors. Still, Microsoft recommends going for other accreditations that it offers including the role-based ones. There are also specialty certificates that are aimed to validate knowledge and skills in line with newer technologies.
Career Prospects and Opportunities
With the development of cloud computing, the demand for robust applications and software that is scalable has risen tremendously. Companies in all kinds of industries are migrating to the cloud so as to cut down on the cost of their IT services. Another factor that has boosted growth of the technology sector is the trend of automation. Organizations are trying to replace some jobs and processes with machines in order to reduce the cost of labor. Thus, there has been a major increase in the need for highly skilled professionals to develop these highly sought-after products and services.
Considering this, having the MTA: Software Development Fundamentals certificate could lead to varied professions. These fall within website development, mobile application design, software engineering, video game developments, and many more. Looking at information on PayScale.com, a software engineer skilled in the programming language stands to earn a salary of around $81k annually. On the other hand, a developer of iOS applications with object oriented programming skills makes about $80k per year. The website also indicates that web application developers may expect around $66k as their yearly pay. Still, when you at your very first start your salary will range from $45-55 per year.
Holding the MTA certification will also demonstrate your desire to learn and better yourself. This indicates to employers that you are highly motivated and determined to be a leading professional in the field. This also introduces you to a community of elites in the technology business from whom you can learn and gain more experience.
What Comes Next after the MTA Certification?
The technology industry is growing with each invention. New technologies are coming up so fast that professionals have to constantly update their skills and get certificates so as to keep up with the pace. Considering this argument, highly skilled individuals who can handle complex problems are needed to fill the many vacant positions. For example, the Microsoft MTA: Software Development Fundamentals certificate cements an individual's basic skills in designing and building software. There is no defined path to take in the field of software development after earning this accreditation. You can choose to focus on a specific programming language or concentrate on a particular vendor. This can also be achieved by focusing on a vendor who utilizes various methods of programming to produce software and applications to meet the customer requirements. Microsoft recommends that you pick a certification that is associated with a specialty area or one that is based on the role you wish to play. There are endless possible paths from Microsoft that you can choose to take. Among the certificates to embrace is the Microsoft Certified: Power Platform App Maker Associate.