Pass Microsoft MTA: Security Fundamentals Certification Exam in First Attempt Guaranteed!
Get 100% Latest Exam Questions, Accurate & Verified Answers!
30 Days Free Updates, Instant Download!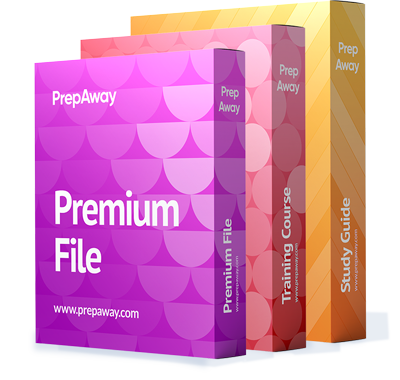 $7.00
Free MTA: Security Fundamentals Exam Questions & MTA: Security Fundamentals Dumps
PrepAway Offers Premium Microsoft Certification Training Products which include, Premium ETE File, Training Course & Study Guide. These products are top of the line available at Cheap Prices to Save Money with Prep Away. Covering the Latest Pool of Microsoft Exam Questions, our Practice Test Questions help candidates to advance in their careers and studies. Use Microsoft Exam Dumps & Training Courses and Ace your next exam with ease. All our premium products feature Latest Questions, 100% Accurate Answers & Fast Updates to New Questions. Over A Million Customers in the last year, PrepAway is one of the fastest growing sites on the Internet.
98-367 Exam - Security Fundamentals
MTA: Security Fundamentals Certification Facts
The Microsoft MTA: Security Fundamentals certification confirms the holder bears foundational knowledge and expertise in security. And because of its entry-level status, it can serve as an introduction to this specialty. But, before earning it, there is one exam that has to be aced. This description provides more about the certificate as well as the evaluation.
Details of the Exam
MTA: Security Fundamentals requires candidates to achieve the passing score in the 98-367 exam. A candidate is not expected to have any certifications prior to taking it. Therefore, this step is open to anyone, whether a professional or novice, who wishes to venture into the security field. In addition, taking the 98-367 exam helps them test the water before opting for the next security designation within the Microsoft Certification Program.
However, participants need some first-hand experience with Active Directory, network devices together with topologies, Windows Server, as well as network ports. Also, experience with Windows-based networking, firewalls, in addition to anti-malware products is of necessity.
When it comes to the registration process, individuals who are not students can access this exam through Pearson VUE whereas Certiport administers it to students as well as instructors. Still, every applicant should pay a fee of $127 to enroll in the exam.
Exam 98-367 can be taken in various languages, such as English, French, Italian, German, Korean, Russian, Spanish, and Japanese. Others include both Traditional as well as Simplified Chinese, Spanish (Mexico), and Brazilian Portuguese. Speaking of the exam structure, there are between 40 and 60 questions that should be answered within 45 minutes. And the type of questions found include MCQs, drag-and-drop, case studies, build list, active screen, and more.
Although this is an entry-level exam, 98-367 can be quite challenging thus adequate training and preparation is necessary. Luckily, many organizations provide training, study guides and other learning materials for candidates. Also, note that your study time is limited because 98-367 exam is scheduled to be discontinued in June 30th, 2022 and Microsoft recommends going for role-based or specialty certifications that it offers.
Study Guides to Help in Preparation
One way to prepare for the exam for MTA: Security Fundamentals is to read available books that explain the required topics. Such materials from leading experts can be found on Microsoft's page or Amazon. Here are some of the best:
MTA 98-367: Security Fundamentals uCertify Course and Labs 1st Edition by uCertify

This material is very useful for self-study as it contains information about all the objectives of 98-367 exam and also includes questions to help in gauging your level of readiness. The authors have included lists of steps, text, images, flash cards, interactive exercises, tables, as well as review activities to aid in your understanding of the objectives of the test. Also, there are more than 85 practice questions included to help with assessing your knowledge before the real exam. For skills that can be applied in the real world, uCertify Labs is part of this package. The more than 370 labs available provide a virtual setting where candidates can gain good experience working with actual problems related to software in addition to hardware.

Exam 98-367 Security Fundamentals 2nd Edition by Microsoft Official Academic Course

Now, here is an official resource for this exam from Microsoft. Authored by Microsoft Official Academic Course, it is an essential tool for both students as well as instructors. Knowledge in addition to proactive skills are provided here for both tutor readiness as well as the candidate's real-world application of concepts. It achieves this objective by including a software that students can use online to develop their hands-on experience. Instructors can also use this resource to adequately prepare for delivery of training according to the curriculum both in the classroom as well as in the labs. This book can be valuable for both self-study and classroom training. Although some may consider it to be outdated, it still provides foundational knowledge and skills on concepts of security that are based on Microsoft.

MTA Microsoft Technology Associate Exam 98-366 & 367 Networking & Security Fundamental ExamFOCUS Study Notes & Review Questions 2015 Edition large Print Edition by ExamREWIEW

This resource combines both study notes as well as questions to test your level of preparation for the 98-367 exam. It focuses on the more technical skills that are necessary to pass it. This is because the author recognizes that acing foundational theoretical questions can be easy compared to technical tasks. Students are able to gain better understanding of security because fancy technical terms have been removed in these notes. This study guide moves away from the pointless remembering of information and terminologies to providing knowledge that is broken down to enable a student to understand the subject matter fully. The language used is simple too and can be easily grasped. The questions in this resource are also there to assist in identifying any knowledge gaps before embarking on the exam.

Microsoft Windows Security Essentials 1st Edition by Darril Gibson

This book offers a concise approach to security on Windows for beginners who are venturing in to the technology world. By concentrating on the essentials, the material brings forth a strong foundation in this field that students can easily build on through other exams and certifications. Every chapter begins by listing the topics and then venturing into the detailed discussion of the subject before concluding with suggested labs plus review questions. This is a complete form of learning because you first gain the knowledge, then you apply it in the lab and finally test yourself on the subject matter. It is a good means of self-study that encompasses real-world applications as well as provides questions to find any knowledge gaps you may have. The back cover of this book lists the security essentials you will learn before taking on the exam for the MTA: Security Fundamentals certificate.
Conclusion
If you are new to the IT sector, then the Microsoft MTA: Security Fundamentals certification is where you need to start. Once you gain the foundational skills examined in the 98-367exam, you start the path to earning more sophisticated and specialized certificates that require passing complex exams. Go for this certification to build a good foundation or to just brush up on skills you already have!