Pass VMware VCP-CMA 2020 Certification Exam in First Attempt Guaranteed!
Get 100% Latest Exam Questions, Accurate & Verified Answers As Seen in the Actual Exam!
30 Days Free Updates, Instant Download!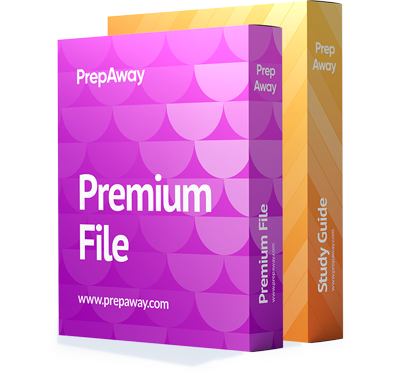 $26.66
Free VCP-CMA 2020 Exam Questions & VCP-CMA 2020 Dumps
PrepAway Offers Premium VMware Certification Training Products which include, Premium ETE File, Training Course & Study Guide. These products are top of the line available at Cheap Prices to Save Money with Prep Away. Covering the Latest Pool of VMware Exam Questions, our Practice Test Questions help candidates to advance in their careers and studies. Use VMware Exam Dumps & Training Courses and Ace your next exam with ease. All our premium products feature Latest Questions, 100% Accurate Answers & Fast Updates to New Questions. Over A Million Customers in the last year, PrepAway is one of the fastest growing sites on the Internet.
2V0-01.19 Exam - VMware vSphere 6.7 Foundations Exam 2019
VCP-CMA 2020 Certification Facts
This VMware VCP-CMA 2020 certification has been renamed to assume the VMware Certified Professional - Cloud Management and Automation 2021 (VCP-CMA 2021) title for the new year. Anyway, it is meant to validate the professional skills in installing, configuring, and administering a VMware vRealize environment. What's more, this technology is important in the automation of vital processes within a data center to optimize productivity and efficiency. Therefore, by completing this accreditation track, you will acquire important foundational skills to easily complete the day-to-day operations and improve your credibility in a modern workplace.
Associated Exams to Pass
To begin with, candidates pursuing the VCP-CMA 2021 certificate must possess first-hand experience working with the VMware vSphere 7.x and vRealize 8.x. But this may not be enough. The final breakthrough to your certification journey will depend on what you score in two relevant evaluations. The first one is the VMware vSphere 6.7 Foundations exam also known as 2V0-01.19. The second one is the qualifying exam called Professional VMware vRealize Automation 8.1 exam with code 2V0-31.20.
Revealing the VMware 2V0-01.19 Exam Details
VMware 2V0-01.19 is a 105-minute-long exam with a total of 65 tasks of drag and drop, single-choice, and multi-choice formats. It costs $125 per attempt and students must score at least 300 points to continue with their certification journey.
Ideally, this non-proctored exam is meant for anyone seeking to validate the basic skills related to deploying and configuring the VMware vSphere 6.7 environments. In more detail, candidates must be prepared for questions regarding the following areas of expertise:
Installation and Configuration of vCenter Server 6.x and ESXi 6.x Hosts
Configuration and Management of vSphere 6.x Networking
Configuration and Management of 6.x Storage
Deployment and Administration of vApps and Virtual Machines
Establishment and Maintenance of Availability and Resource Management Features
Performance of Fundamental Troubleshooting of a vSphere 6.x Implementation
Performance of Basic Monitoring of vSphere Implementation
As you understand, in preparation, there is a lot of work to be done. That's why you should check out VMware's recommended training programs, such as VMware vSphere: Optimize and Scale [6.7]; VMware vSphere: Install, Configure, Manage [6.7]; and VMware vSphere: Fast Track [6.7]. All of these will help you cover all of the exam objectives and get a passing score on the final test.
VMware 2V0-31.20 Exam Overview
The second exam that the candidate must also pass is the 2V0-31.20 qualifying exam, which focuses entirely on the VMware vRealize Automation 8.1 product.
Regarding the details of the final evaluation, it is a Proctored test consisting of 70 questions that must be answered in 140 minutes. As with all VMware exams, you must register on the Pearson VUE platform and pay the $250 enrollment fee.
Then, on the appointed day, to achieve a passing grade of 300, you must deal with the following topics:
Technologies and Architecture
VMware Products and Solutions
Planning and Designing
Installing, Launching, and Configuring
Performance-tuning, Upgrades, and Optimization
Preparing and Troubleshooting
Operational and Administrative Tasks
But even in this case, the vendor does not leave out candidates to dry in the preparation process. Anyone can take the VMware vRealize Automation: Install, Configure, Manage [V8] course to get the most up-to-date information on the product and be fully prepared for the exam.
Career Opportunities
Now that you are a VMware certified specialist and have your VMware Certified Professional - Cloud Management and Automation 2021 certificate in hand, there are many career opportunities open to you. For example:
Systems Engineer

A system engineer monitors and controls the functioning systems, as well as installs, tests, configures and maintains system management tools, operating systems, and application software. Often, they are involved in the building, maintenance, and troubleshooting of infrastructure and may work independently or as part of a talented IT department. Also, competent systems engineers boast a solid IT background and will use their countless years of experience to monitor the performance of applications, write custom scripts, design support systems, and complete security operations.

Moreover, these specialists get an average salary of $80,503 per year according to PayScale.com.

Software Engineer

The typical job roles and responsibilities of a software engineer focus on the improvement of system quality by detecting basic issues, enhancement of applications by highlighting the basic upgrades and optimizations, and the maintenance of the available codebases, as well as the code, changes. Also, these professionals are involved in the investigation and adoption of new technologies where appropriate and provision of technical support to end-users. Therefore, aside from the educational qualifications, a software engineer should possess the right mix of technical expertise and problem-solving skills. Also, they should be proficient in troubleshooting basic issues and demonstrate a solid analytical and communication skillset.

At the same time, in accordance with the PayScale.com official website, a software engineer is certain to make an average of $87,349 per year.

Cloud Automation Engineer

A cloud automation engineer is sometimes known as a senior software engineer or developer who understands cloud integration, orchestration, and automation. Thus, s/he is a highly experienced IT professional who demonstrates a painstaking understanding of workflows and processes, cloud infrastructure, data center, and software design. Generally speaking, a cloud automation engineer is responsible for implementing, optimizing, and supporting infrastructure to maintain the highest standards of availability. Also, their job scope may cover the design of new systems, the improvement of cost efficiency in cloud platforms, the enhancement of cloud availability, and the build-up of the performance of functional cloud infrastructure. Typically, many recruiters will demand up to 5 or 10 years of professional experience when looking to applicants. And that's where VMware's VCP-CMA 2021 certificate may act as your best weapon.

Furthermore, according to ZipRecruiter, a cloud automation engineer earns an average of $138,576 per year.
Career Path
Technology doesn't stand still, so you always have to keep up with the fast-changing digital world. For this reason, upon obtaining the VCP-CMA 2021 qualification, many professionals seek advanced knowledge by specializing in one of the following tracks:
VMware Certified Advanced Professional - Cloud Management and Automation Deploy 2021
VMware Certified Advanced Professional - Cloud Management and Automation Design 2021