Pass RedHat RHCE Certification Exam in First Attempt Guaranteed!
Get 100% Latest Exam Questions, Accurate & Verified Answers!
30 Days Free Updates, Instant Download!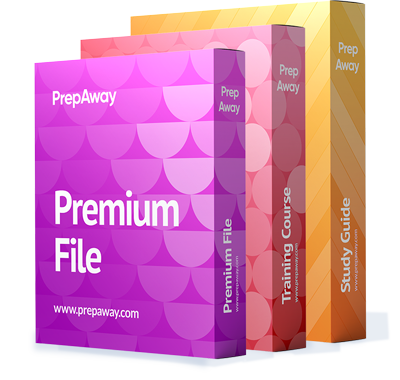 $7.00
Free RHCE Exam Questions & RHCE Dumps
PrepAway Offers Premium RedHat Certification Training Products which include, Premium ETE File, Training Course & Study Guide. These products are top of the line available at Cheap Prices to Save Money with Prep Away. Covering the Latest Pool of RedHat Exam Questions, our Practice Test Questions help candidates to advance in their careers and studies. Use RedHat Exam Dumps & Training Courses and Ace your next exam with ease. All our premium products feature Latest Questions, 100% Accurate Answers & Fast Updates to New Questions. Over A Million Customers in the last year, PrepAway is one of the fastest growing sites on the Internet.
EX300 Exam - Red Hat Certified Engineer (RHCE)
RHCE Certification Facts
The Red Hat Certified Engineer (RHCE) is one of the prestigious certifications that allow candidates to automate Red Hat Enterprise Linux tasks, apply automation for efficiency and innovation, and integrate Red Hat's emerging technologies. You can give a boost to your career if you want to achieve such a certificate, which is gaining a lot of popularity, and once you earn it you can showcase it on your profile to attract potential employers.
Target Audience
This certification is designed for the candidates who have already accomplished the process of gaining the Red Hat Certified System Administrator designation and look forward to expanding their knowledge and skills. Thus, if you have some experience in solving the Red Hat Enterprise Linux tasks as well as emerging technologies, you can apply for this certification and its related exam. Besides, the applicants who want to validate their Linux automation skills can also go for the RHCE certification.
What Is RHCE?
The Red Hat Certified Engineer validation is changing with time as there are new technologies that have been added to reflect individuals' automation knowledge. In particular, pursuing the RHCE certificate will enhance your knowledge of deploying, managing, and supporting a container-based architecture. Also, it will make your designation valuable and provide you professional experience in the field. However, the previous exam one had to pass was EX300, though after its recent retirement, the interested candidates need to take now the EX294 exam to be RHCE certified.
Details about EX294
The Red Hat EX294 is the performance-based certification exam that tests the knowledge of the candidates about multiple systems utilizing the Red Hat Ansible Engine. This exam also helps the candidates to execute common system administration tasks across a number of systems with Ansible so you can validate your knowledge of system administration for many Red Hat products. To become eligible for such a test, you need to have comparable work experience or should have taken the Red Hat System Administration III: Linux Automation and with Ansible (RH294) course. The essence of this evaluation is a tad different from many other Red Hat tests, which means you will be given a list of tasks and have to install and alter the Ansible Engine in multiple systems. These systems would then be used for performing the standard system administration tasks that candidates do on the job. Moreover, during the final test, you will need to make the Ansible Playbooks and be aware of how to use the playbooks to configure systems for specific roles & behaviors. Once you complete the list of the tasks, you will get your scores from the Red Hat Certification Central within 3 business days.
Topics Covered by EX294 Exam
The candidates who aim to achieve the RHCE endorsement should handle all the responsibilities that should be done by a Red Hat Certified System Administrator and have grip across the following domains:
Understand fundamental attributes of Ansible;
Install and configure Ansible control node;
Script administrative tasks;
Configure Ansible nodes that are managed;
Make Ansible plays & playbooks;
Utilize Ansible modules for system administrator tasks;
Work with roles;
Use proficient Ansible characteristics.
Books & Training Course Recommended for RHCE
If you want to achieve the RHCE certification, you need to keep in mind that it is essential to prepare for the EX294 exam to get a promising score. For example, the training courses recommended by Red Hat are very informative for the candidates. You can also use books and study guides from Amazon to polish your skills and enhance your knowledge in the field. All in all, you should consider the following prep materials to get a good score in the actual EX294 exam:
RHCSA/RHCE Red Hat Enterprise Linux 8 Certification Study Guide by Michael Jang and Alessandro Orsaria

It is a comprehensive study guide presented to you by the Enterprise Linux 8 experts. It covers all the important details of the exam objectives and helps you fully prepare for it. Each chapter in this material is well crafted with relevant information along with step-by-step exercises. Plus, you will find the self-tests, two-minutes drills, and hands-on lab questions in this guide. In addition to all these, you will get a lot of benefits when you buy this book because it has 100+ lab-based exercises with appropriate answers and in-depth explanations of those answers. Not only this, but this resource also includes the four lab-based practice exams. Remember, a manual like this is written by the Red Hat experts and contains only relevant information. Thus, the candidates need to go through each chapter to understand exam objectives to put in hard work, and prepare for the EX294 with full passion.

Red Hat RHCE (EX294) Cert Guide by Sander van Vugt

This study guide is the best resource for candidates who want to prepare and practice for the final EX294 test. It acts as a stepping stone for candidates to learn about key concepts of Enterprise Linux 8 and configuration management. In addition, while using this book, the candidate will also learn about installing Ansible and setting the managed environment. This resource then teaches you about Ansible roles, deploying files, troubleshooting Ansible, making playbooks, managing software with Ansible, and managing users, tasks and processes. Furthermore, via this handbook, you can assess your knowledge and sort out additional resources for your study plan. Lastly, at the end of each chapter, there are labs, which is also very effective for candidates to succeed in the concerned exam.

Red Hat Enterprise Linux Automation with Ansible (RH294) Training Course

This is one of the best official training courses that teaches you the skills needed to deal with a large number of systems and applications effectively. During the courseware, the candidates will learn about Ansible to automate provisioning and handle application deployment, orchestration, and configuration. Moreover, this class helps you learn about protecting sensitive data used by Ansible and automating administration tasks with Ansible Playbooks. In particular, a course like this is designed for candidates who work as DevOps Engineers, System Design Engineers, Infrastructure Automation Engineers, and Linux System Administrators. So, enroll in the course today and prepare for the main EX294 evaluation with rigorous training conducted by talented Red Hat experts.
Final Words
The Red Hat Certified Engineer certification can be a turning point in your career and help you achieve your professional goals. You just need to purchase the relevant books from Amazon to prepare for the related EX294 exam. The vendor's training course mentioned above can also be helpful for you to clear the required concepts and pave your path towards the coveted RHCE designation. Thus, make sure to put maximum effort and practice as much as you can to reach your final destination. Good luck!