Pass ECCouncil CEH Certification Exam in First Attempt Guaranteed!
Get 100% Latest Exam Questions, Accurate & Verified Answers!
30 Days Free Updates, Instant Download!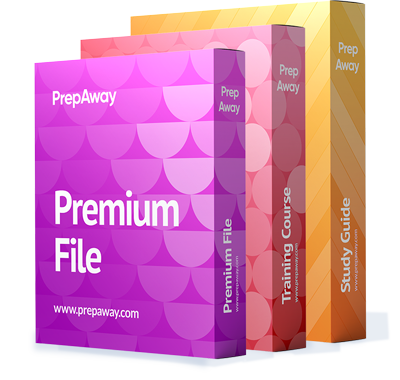 $7.00
Free CEH Exam Questions & CEH Dumps
PrepAway Offers Premium ECCouncil Certification Training Products which include, Premium ETE File, Training Course & Study Guide. These products are top of the line available at Cheap Prices to Save Money with Prep Away. Covering the Latest Pool of ECCouncil Exam Questions, our Practice Test Questions help candidates to advance in their careers and studies. Use ECCouncil Exam Dumps & Training Courses and Ace your next exam with ease. All our premium products feature Latest Questions, 100% Accurate Answers & Fast Updates to New Questions. Over A Million Customers in the last year, PrepAway is one of the fastest growing sites on the Internet.
312-50v10 Exam - Certified Ethical Hacker v10 Exam
CEH Certification Facts
The EC-Council CEH certification validates the knowledge as well as skills in hacking computer systems ethically. It involves penetrating computer networks to point out weaknesses that can be exploited by malicious hackers. These ethical hackers are also called white hat hackers whereas those who have hostile intentions are known as black hat hackers. And to confirm this expertise and attain the mentioned above accreditation professionals have to pass the appropriate CEH exam developed by EC-Council.
Who It Is Intended For
The CEH certificate can be pursued by anyone with an interest in information security. The EC-Council, however, mandates that candidates should have worked in this field for not less than two years. This is a condition to applying for the CEH exam, also coded as 312-50v11. So, this accreditation pathway will be useful for security analysts, administrators, officers, and system administrators.
Overview Of The Associated Evaluation
Aspirants of this certificate have to pass a 4-hour CEH exam that contains 125 multiple-choice questions. Before applying for it, candidates have to apply for eligibility which costs $100. Once they are approved to take the test, they can register with Pearson VUE for $1,199 or at the ECC Exam Center for $950. Also, keep in mind that taking the official training is essential to pass this exam, as this official study program covers all the elements of hacking.
Skills Validated By The CEH Accreditation Track
For specialists to become hackers, they need to have several competencies. And the evaluation described above is designed precisely to test whether applicants are knowledgeable in the following areas:
Summary of information security plus ethical hacking

The first knowledge area of the CEH exam blueprint introduces a professional to the space of ethical hacking. It looks at theories related to hacking as well as information security in general. Also, the expert will learn concepts of cyber kill chain, ethical hacking, plus controls as well as regulation applied to information security.

Techniques used in reconnaissance

The next competence for the CEH concerns footprinting concepts together with the reconnaissance process. It entails the procedures, tools, and countermeasures applied in this area. Further, aspirants have to know the core concepts and effective tools used in network scanning. This includes host and operating system discovery, among others. The test-takers are also supposed to understand what enumeration is and the various techniques plus its countermeasures.

Stages of system hacking and attack procedures

The following exam part covered by the CEH syllabus involves the analysis of vulnerabilities. So, individuals should be knowledgeable in evaluation techniques, solutions, tools, as well as reporting. Next, they should understand what system hacking is. It involves gaining access, enhancing privileges, and hiding files among others. As well, the threats posed by malware are part of what interested applicants should know. In more detail, they should be able to analyze them and know what countermeasures are best suited to combating them.

Hacking of network along with perimeter

In this domain, is focused on the understanding of sniffing and what it entails. This includes the various techniques, tools, how to detect and combat it. Also, it is important to comprehend what social engineering is and how it applies to information security. The concepts of Denial-of-Service are essential to the CEH certification candidate as well. It included botnets, attack techniques, and tools, along with protection against it. Also, it's essential to understand what session hijacking is. It has several tiers that experts have to know so that they can be able to counter them. They also need to be knowledgeable in how honeypots, IDS, as well as firewalls can be evaded. This is important because certified ethical hackers are supposed to find techniques and tools to prevent this from happening.

Hacking of web applications

According to the next topic, specialists should comprehend what hacking of web servers involves. For this, they have to be knowledgeable on the tools and procedures used when carrying out these attacks and how to repel them. Further, the candidates have to be competent in web apps and the threats that they face. There are many attacks that malicious hackers can launch but ethical hackers have to be ready to stop them. Another skill they need is related to SQL injection. It is important to know what it is all about including the various techniques applied.

Hacking of wireless networks

Next, exam-takers need to be knowledgeable on how wireless networks are hacked. This includes encryption, threats, hacking techniques, as well as numerous tools. Moreover, remember about the hacking of Bluetooth, wireless countermeasure, and security equipment.

Hacking of mobile platform, OT, and IoT

The other competency professionals seeking the CEH certification should have involved the hacking of mobile systems. It includes the hacking of various mobile operating systems such as Android and iOS. Also, the various attack vectors are explored including how to combat them. What's more, candidates have to also know how IoT, as well as OT, are hacked. This involves the techniques applied in penetration and the measures that are best suited to preventing intrusion.

Cloud computing

Another area of expertise is on cloud computing, the threats they face, plus how to secure them. At the same time, expertise in container technology, serverless computing, and hacking of the cloud will help you succeed in the final CEH exam.

Cryptography

The last knowledge area around which the EC-Council CEH exam revolves is cryptography. It includes algorithms used in cryptography, PKI, and disk encryption. In addition, you must be proficient with cryptography tools, encryption of emails, cryptanalysis, and measures to counter hacking.
Career Prospects
The rising number of threats and attacks that companies face from rogue hackers has increased the demand for certified ethical hackers. Therefore, organizations are hiring them to bolster the security of their information. Some job roles that the CEH certificate applies include cyber security auditor, security analyst, information security manager, and more. Furthermore, these certified specialists enjoy generous salaries. For instance, an ethical hacker with the CEH qualification who is skilled in cyber security earns around $83,166 annually according to PayScale.com.
What Next After Earning This EC-Council Certificate
There is no doubt that certified ethical hackers enjoy a lot of perks in the digital world. It is also important that you advance your knowledge to keep on standing out. Therefore, after the EC-Council CEH qualification path, the most appropriate step is to take the CEH Practical certification exam, as it offers more hands-on experience due to the inclusion of several labs. After completing them, you will gain the CEH Master designation. Then, if you choose to grow in your career, you can search for the advanced certifications offered on the EC-Council website.