Pass Amazon AWS Certified Solutions Architect - Professional Certification Exam in First Attempt Guaranteed!
Get 100% Latest Exam Questions, Accurate & Verified Answers!
30 Days Free Updates, Instant Download!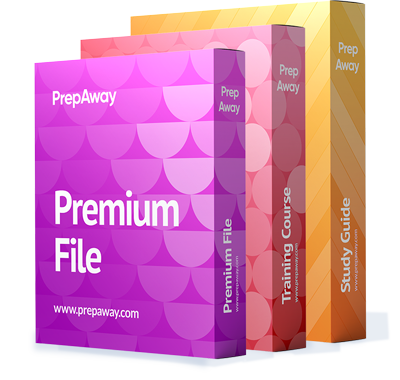 $7.00
Free AWS Certified Solutions Architect - Professional Exam Questions & AWS Certified Solutions Architect - Professional Dumps
PrepAway Offers Premium Amazon Certification Training Products which include, Premium ETE File, Training Course & Study Guide. These products are top of the line available at Cheap Prices to Save Money with Prep Away. Covering the Latest Pool of Amazon Exam Questions, our Practice Test Questions help candidates to advance in their careers and studies. Use Amazon Exam Dumps & Training Courses and Ace your next exam with ease. All our premium products feature Latest Questions, 100% Accurate Answers & Fast Updates to New Questions. Over A Million Customers in the last year, PrepAway is one of the fastest growing sites on the Internet.
AWS Certified Solutions Architect - Professional SAP-C02 Exam - AWS Certified Solutions Architect - Professional SAP-C02
Download Free AWS Certified Solutions Architect - Professional SAP-C02 Exam Questions
AWS Certified Solutions Architect - Professional Certification Facts
The Amazon AWS Certified Solutions Architect – Professional certification solidifies your ability in administering and operating relevant systems on AWS. It illustrates that you have the right set of skills needed for designing and deploying applications that are not just dynamically scalable but also fault-tolerant and highly available. More so, this accreditation signifies that you can efficiently pick the appropriate AWS services to build and migrate a reliable application, set up enterprise-wide scalable operations, handle continuous improvement, design for organizational complexity, and integrate cost-control strategies.
Relevant Information about the Certification
If you are interested in pursuing this path, there are things you need to ponder beforehand. Firstly, make sure that your professional background fits the requirements set for the certification. Note that Amazon AWS Certified Solutions Architect – Professional is intended for those with at least 2 years of technical experience in AWS cloud architecture. It's also advisable that you are already accustomed to the cloud application requirements, architectural recommendations, and AWS Well-Architected Framework elements. Another prerequisite is your understanding of AWS functions such as CLI, APIs, CloudFormation Templates, Management Console, and Billing Console, as well as your familiarity with scripting languages, Windows/Linux environments, and deployment process, among others. For the complete set of the recommended knowledge and experience, check out the official site.
Though not mandatory, it's best that you have accomplished the Amazon AWS Certified Solutions Architect – Associate certificate, which serves as a great introductory tool to this advanced validation. After completing the requirements, you become a suitable candidate for SAP-C01, the corresponding exam you need to pass in order to secure the certification. This particular test consists of 75 questions with a time limit of 180 minutes. The format of the exam questions can either be multiple choice or multiple response, so be sure to prepare in advance. You can take the test via an online proctored setup or directly at a testing center.
Useful Books, Courses, and Other Documents to Pass the Exam
Ace your upcoming SAP-C01 test by using the right study resources. And if you want to save time, below are the most credible set of materials you can take advantage of when studying for the exam.
Exam guide
Download this file from the official site and start familiarizing yourself with the crucial information about the exam. Here, you are presented with a summary of the things you need to comprehend in advance, including the exam specifications, question format, and scoring requirements. It also gives details of the test content, particularly the 5 major domains that underline the Amazon AWS Certified Solutions Architect – Associate exam. More so, this document offers you an elaborate outline of the knowledge and experience you should have before pursuing the certification path.
Advanced Architecting on AWS (3-day course)
Upon getting to know the key details of the certification and its corresponding exam, it's high time to commence with the learning process. Gain knowledge on how to deal with different architectural design problems straight from an expert AWS instructor. As the sole course for the AWS Certified Solutions Architect – Associate certification, this should be included on your list of top prep materials. The training is highly recommended not just for exam candidates but also for working cloud architects, solution architects, and professionals who design cloud infrastructure solutions.
However, before enrolling in the program, you need to have a prior understanding of the AWS core services, specifically networking, compute, storage features, along with the IAM categories. It's also mandatory to have completed the Architecting on AWS classroom course. If not, then you should be able to present a current Amazon AWS Certified Solutions Architect – Associate certification or provide a document that illustrates your experience in operating AWS workloads. At least 1 year of technical background would do.
Once you complete the requirements, you are more than ready to take the training. The course is designed to support your journey towards AWS excellence. It develops your skills in securing Amazon S3 VPC endpoint connections in a lab setup and highlights the best practices that you should use when handling different services and implementing permissions management. Another area covered is the AWS hybrid network design, which is used to address traffic surges and streamline remote work. This is important to ensure compliance with both FIPS 140-2 Level 2 and Level 3 securities. Completing the list of topics are the solutions and products for designing hybrid infrastructures. All these significant subjects are incorporated through comprehensive courses coupled with realistic case scenarios to improve your practical efficiency.
Official publications
Explore the AWS services further with some white papers. Amazon has its own collection of documents that you can use to cultivate your knowledge and develop your critical thinking skills. As of this writing, there are three relevant files that you should capitalize on. The first one is the AWS Key Management Service Best Practices, which records everything about the AWS KMS and its related features such as IAM, CMK, EBS, RDS, and the like. The other publications that should be on your radar are the Web Application Hosting in the AWS Cloud and Migrating AWS Resources to a New Region. Both materials offer you in-depth coverage of the major exam objectives to reinforce your command thoroughly.
AWS Certified Solutions Architect Professional (SAP-C01) – Exam Guide (Amazon)
Created by Michael Gibbs and Nathan Vontz, this book gears you up with a better understanding of the exam. It gives emphasis on the AWS Virtual Private Cloud, along with the core AWS apps and services. Additionally, it provides you with key information on cloud computing, high availability architecture, cost optimization, database design, storage options, network performance, and security features. These topics are written in a simple approach to help you comprehend the pertinent subject easily and effectively. As a result, you become more capable in your role as a solutions architect, giving you a distinct edge among other professionals.
Conclusion
Having a solid, technical knowledge of the AWS Cloud offers you a competitive advantage in this thriving generation of information technology. Hence, if you want to land a job with lucrative benefits, it's time for you to plan your goals and add the Amazon AWS Certified Solutions Architect – Professional certification to your profile. With this on your belt, you are bound for a successful career and better job security.