Pass Amazon AWS Certified Developer - Associate Certification Exam in First Attempt Guaranteed!
Get 100% Latest Exam Questions, Accurate & Verified Answers!
30 Days Free Updates, Instant Download!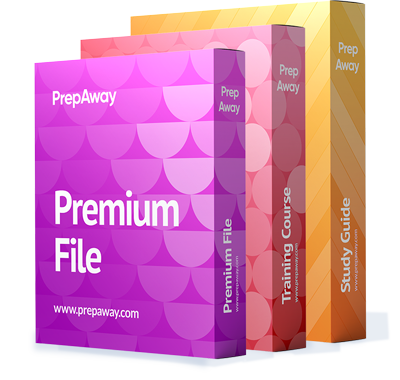 $7.00
Free AWS Certified Developer - Associate Exam Questions & AWS Certified Developer - Associate Dumps
PrepAway Offers Premium Amazon Certification Training Products which include, Premium ETE File, Training Course & Study Guide. These products are top of the line available at Cheap Prices to Save Money with Prep Away. Covering the Latest Pool of Amazon Exam Questions, our Practice Test Questions help candidates to advance in their careers and studies. Use Amazon Exam Dumps & Training Courses and Ace your next exam with ease. All our premium products feature Latest Questions, 100% Accurate Answers & Fast Updates to New Questions. Over A Million Customers in the last year, PrepAway is one of the fastest growing sites on the Internet.
AWS Certified Developer Associate Exam - AWS Certified Developer Associate (DVA-C01)
AWS Certified Developer - Associate Certification Facts
AWS Certified Developer - Associate is the mid-level certification for IT professionals with skills in developing applications on AWS. It validates one's proficiency in using this cloud computing platform and serves as a stellar addition to any resume. This certificate provides enough evidence that you have the knowledge and skills needed in one of the fastest-growing niches in information technology, which is cloud computing. And by gaining it, you will be proving that you can develop, deploy, and debug any cloud-based applications used with AWS.
The Most Suitable Audience
The AWS Certified Developer - Associate certification is designed for professionals working in organizations using AWS. For instance, developers of cloud-based applications, cloud infrastructure developers, and cloud software engineers form just a little part of the audience that is best suited to validate their skills using this certificate. With such an achievement, your level of expertise is undoubted, and the number of potential opportunities within your grasp increases immensely.
Exam to Pass: AWS DVA-C01
You only need to pass one exam, DVA-C01, to earn your AWS Certified Developer - Associate certificate. It measures the candidate's skills required to assume the role of a cloud developer. Thus, the test-takers should be able to show their knowledge of the principal AWS services, best practices, and key the concepts of deploying, debugging, and developing cloud cantered apps with AWS.
When it comes to the assessment process itself, the AWS DVA-C01 exam consists of multiple-choice and multiple-response questions, with a total of 65 items to be attempted by the candidates. It can be taken at any AWS testing center worldwide or through the online proctored mode from the comfort of their homes. The applicants will be given a maximum of 130 minutes to complete the exam and will have to pay a registration fee of $150. Currently, the AWS DVA-C01 exam is available in English, Japanese, Korean, and Simplified Chinese languages, and one can only pass it by scoring a minimum of 720 points out of 1000.
Exam Domains Overview
The AWS Certified Developer - Associate exam focuses on the 5 comprehensive domains. Remember, these objectives do not reflect everything that will be covered by the DVA-C01 exam. So, you may want to visit the official website to find out more accurate details before attempting this test:
Deployment

This domain contributes to 22% of the total exam weight. Here, the candidates will have to confirm if they are well conversant with the concepts of deploying a written code in AWS with the help of the available CI/CD pipelines, patterns, and processes. Also, it measures how well a candidate can handle the deployment of applications with Elastic Beanstalk, the deployment of serverless apps, and the preparation of an app deployment package to be integrated into the AWS cloud platform.

Security

The second domain with 26% of the total exam content, will cover the AWS security concepts that every developer needs to know. This includes making authenticated calls along with the implementation of encryption, application authorization, and authentication in AWS.

Development with AWS Services

This section carries 30% of the exam total, making it the largest domain. Most of the tasks here focus on code writing for serverless apps, the process of translating operational requirements into the app design, the implementation of app design into the app code, and code writing for the AWS services.

Refactoring

This section of the syllabus will only account for 10% of the total exam questions. Some of the tasks you will be expected to accomplish here include optimizing apps to aptly utilize the features and services of AWS and migrating the available application to run on Amazon Web Services.

Monitoring and Troubleshooting

This is the last domain of DVA-C01 exam with a weighting of 12% of the total questions. It measures the knowledge of writing monitorable codes and analyzing root causes to understand the faults found in production or testing.
Career Opportunities
The AWS Cloud Developer - Associate certificate opens up careers in one of the fastest-growing IT niches in cloud computing. According to the March 2020 reports by IDC, 90% of companies will be using cloud computing globally. Of course, the figure may be lower in certain countries, but the rate of growth is constantly increasing worldwide. For example, the boost of this sphere can reach a mark of 18% in 2021 compared to 2020 as per statistics by Gartner. With these in mind, you may want to find out the details of a few positions that are supported by the mentioned certificate. And some of the best options are listed below:
Cloud Software Engineer

This position involves collaborating with developing teams to optimize cloud use and solutions, modifying systems already in use, designing and deploying cloud-based systems, as well as identifying and resolving deployment issues. It may also entail interacting with clients and giving recommendations based on their needs. The average annual salary for a cloud software engineer is about $99k according to PayScale.

Cloud Developer

From the name, a cloud developer designs applications on cloud platforms. Their responsibilities involve analyzing the needs of customers, designing systems and solutions, and debugging. That being said, the average salary for a typical software developer with cloud computing expertise is $95k per year.

AWS Engineer

AWS engineers are tasked with creating, maintaining, and adjusting AWS cloud infrastructure. Their everyday job includes planning, implementing, and building product systems, ensuring systems integrity, troubleshooting, and overseeing the company's services and products. The average salary of an AWS engineer is $76 annually.
Certification Path
The AWS certificates are set along a role-based path, and the AWS Certified Developer - Associate certification is just one step on your career track. So, after earning it certificate, it is always a good idea to upgrade your skills by specializing in the chosen field. This means the ideal learning paths at this point should involve obtaining either the AWS Professional or Specialty accreditations. And the two best options at the Professional path include the following:
AWS Certified Solutions Architect - Professional
AWS Certified DevOps Engineer – Professional
It's important to note that the above certifications demand at least 2 years of proven experience in operating, troubleshooting, and designing solutions with the AWS Cloud.